World Community Grid announces that members have returned more than 1 Billion results.
---
---
Many thanks to all our volunteers here at World Community Grid! Together, we have achieved a new milestone in our history by returning more than 1 billion results to help advance critical humanitarian research.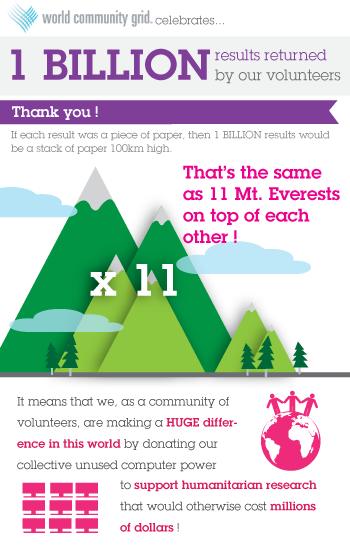 The results that you, together with the World Community Grid volunteer community, have "crunched" on your computers have been sent to research scientists around the world for analysis. These results have helped to advance humanitarian causes such as researching treatments for AIDS, Muscular Dystrophy, different forms of Cancer, Schistosoma, Malaria, Leishmaniasis and more. Your efforts have also helped advance research which addresses important environmental issues, including improving water quality, developing technologies to access clean water, increasing ways to harness solar power, and improving world nutrition. None of this would have been possible without the wonderful contributions of all of our volunteers!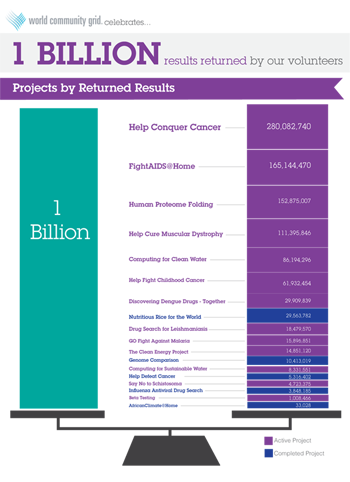 As our community has grown, the compute power available for humanitarian research has accelerated. We now return over 1 million results per day. The following reflects how the rate at which we return results has accelerated since World Community Grid was launched in November 2004:


31 months to reach 100 million results returned (July, 2007)
Another 13 months to reach 200 million results returned (August, 2008)
Another 11 months to reach 300 million results returned (July, 2009)
Another 7 months to reach 400 million results returned (March, 2010)
Another 5 months to reach 500 million results returned (September, 2010)
Another 5 months to reach 600 million results returned (February, 2011)
Another 4 months to reach 700 million results returned (July, 2011)
Another 4 months to reach 800 million results returned (November, 2011)
Another 4 months to reach 900 million results returned (March, 2012)
And it only took another 3 months to reach the 1 billion results returned milestone! (June, 2012)

It has taken a community of over 590,000 individuals, who have collectively contributed to World Community Grid, to achieve this major accomplishment. We are extremely grateful for your contribution. Without you, this compute power would not be available to help accelerate the kind of important scientific research we all care about.

THANK YOU!