September is Childhood Cancer Awareness Month. This month is special to us because of our successful Help Fight Childhood Cancer project, which helped researchers find several promising treatments for neuroblastoma, a deadly childhood cancer. In this article, a volunteer describes her family's experience after her young daughter was diagnosed with neuroblastoma.
---
---
During September, the world observes Childhood Cancer Awareness Month. More than 200,000 World Community Grid volunteers supported the Help Fight Childhood Cancer project, which helped researchers make a breakthrough discovery in the treatment of neuroblastoma, one of the most deadly childhood cancers. Below, one of these volunteers, Mihaela Ciobanu, shares the story of her daughter's neuroblastoma diagnosis and treatment.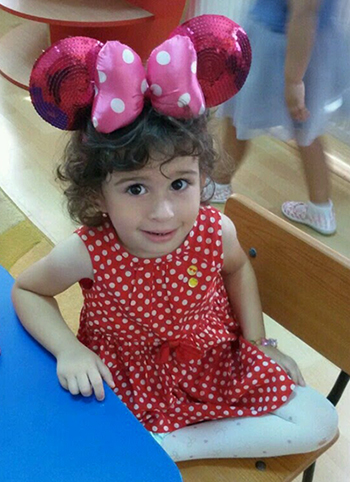 It began two years ago, when my daughter Illinca (pictured above) was one year and 10 months old. She vomited a few times during the month of June, which was not normal for her. We knew medical intervention would be necessary.
On July 21, 2014, we took Ilinca for an ultrasound, and after that, the hell began. The doctor informed us that Ilinca had a tumor on her right suprarenal gland (a gland which helps regulate metabolism and immune system). Illinca then had a CT scan, but we still did not have a written diagnosis for her condition, although the doctors who examined her told us verbally that they believed it was cancer and that she would need surgery as quickly as possible. We took her to a specialist in Bucharest, who told us because of the location of her tumor (near the vena cava, a large vein which carries blood to the heart), he would only be able to remove approximately 80 percent of the growth.
Immediately, we started to look for specialized clinics in Europe that would be able to remove the entire tumor. Our friends and colleagues supported us throughout our search, and helped us financially with the costs of treatment—a million thanks to them! After three weeks of looking, we managed to get an appointment for Illinca at the Gustave Roussy Institute in Paris. We arrived there on August 11, and the doctors quickly gave us a diagnosis: neuroblastoma, a cancer that forms on nerve tissue and often begins in early childhood.
The operation was set for August 25. By now, Ilinca was one month short of her second birthday. After a four-hour operation, the surgeon, who was from the nearby Kremlin Bisetre Hospital, came out to tell us that he had managed to remove the entire tumor. Now, we needed to await the results of several tests. If the test results were positive, Illinca would need to start chemotherapy immediately. If they were negative, we could take her home, and she would only need periodic ultrasounds and urinalysis.
On September 11, we received the test results: they were negative and we could take our daughter home! It was the best news we ever received in our lives!
Following this, we started going periodically for check-ups in France, first every three months and now, after two years, every six months. According to the doctor at the Gustave Roussy Institute, Ilinca will have to go periodically to checkups for five years after the surgery.
What started as an emergency visit to the doctor for a heavily upset stomach turned into some of the hardest days of our lives. When you feel your plans and hopes crumble, and realize how cruel life's obstacles are, all that remains is to fight. Life never asks if you're ready to face troubles. You don't choose your battles, and they don't give you any notice before they surprise you. Don't ask if it's too early or too late...if you get a chance to live, you completed a part of your dreams! Life only gives you a test of survival, and then lets you handle it.
Ilinca is very, very well now, and this month, on September 25, she will be four years old.
Illinca just began school. Here she is on her first two days!
Editor's note: The Help Fight Childhood Cancer researchers are beginning laboratory testing for potential treatments discovered through World Community Grid. They are also planning a second phase of the project which will broaden their search to include other types of childhood cancers.