More than 20,000 people were nominated to attend South by South Lawn, a White House event designed to bring together a creative, entrepreneurial group to discuss some of the world's biggest issues. World Community Grid manager Juan Hindo was one of the few who was picked to attend the event. In this article, she discusses how South by South Lawn has inspired World Community Grid to re-issue our public call for a climate change research project.
---
---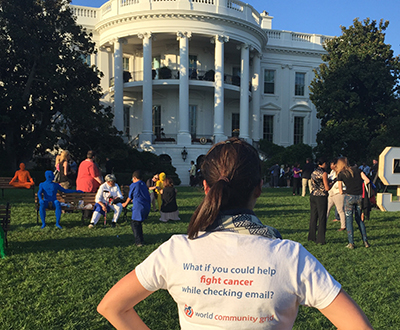 On October 3, I was honored to attend South by South Lawn 2016 at the White House. This event brought together leaders in art, technology, innovation, and social change who are helping to move the country forward. My nomination for the event focused on the scientific progress made possible by bringing researchers and World Community Grid volunteers together, through our technology platform. I believe that in inviting me to represent all of us, the organizers recognized World Community Grid as an important example of public participation in solving our toughest challenges.
The event theme "...a festival of art, ideas, and action..." was very broad, so I didn't know exactly what to expect. Once I arrived at the South Lawn, I was thrilled to meet a wide variety of people–entrepreneurs, activists, thought-leaders and others–who had come together to learn more about innovative projects in social justice and inclusion, health and food sustainability, among other fields.
The most powerful session of the day was a panel discussion on climate change between President Obama, actor/activist Leonardo DiCaprio, and climate scientist Dr. Katharine Hayhoe. Their conversation not only articulated the unprecedented urgency of the problem, but focused on the positive impact of policy changes on issues such as the ozone layer and endangered species.
World Community Grid can be a major contributor to further research on climate change. We issued a public call to researchers in 2014, inviting them to apply with any projects on climate modeling, water research, food resiliency, and other climate-related issues that can benefit from massive computing power. We are re-issuing the call and are once again looking for opportunities to make climate scientists that we know (as well as some that we don't know) aware of the resources World Community Grid has to offer. Volunteers, if you have any personal connections to any climate-related organizations or individuals, please help us in this effort by sharing our article.
Thank you to volunteers and researchers who contribute to World Community Grid's work. You are the reason that the program is recognized with awards and invitations to events such as South by South Lawn. With your help, we hope to find climate change research efforts that can help accelerate the science behind this important issue.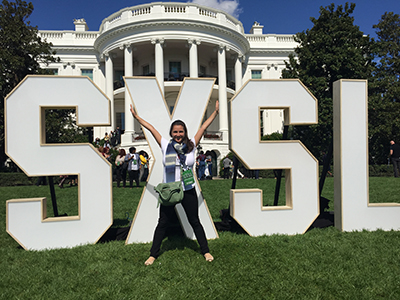 ---
Related Articles