The Smash Childhood Cancer team recently welcomed a new US-based researcher. Several of the researchers also met in person for the first time to discuss the project.
---
---
Welcome to Dr. Charles Keller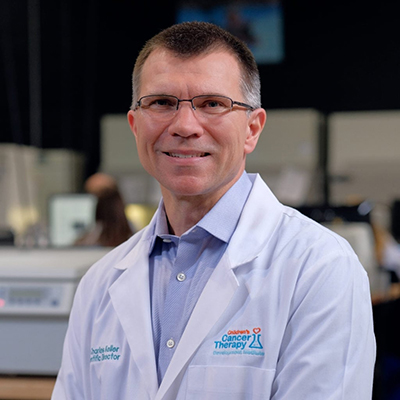 We're thrilled that Charles Keller, MD, has joined the Smash Childhood Cancer research team. Dr. Keller is the Scientific Director of the Children's Cancer Therapy Development Institute in Oregon.
Dr. Keller's research focuses on the development of more effective, less toxic therapies for childhood cancers. His special interest is advanced disease that has spread beyond the initial location of the cancer or which makes a tumor not surgically removeable. Learn more about his background on the project's Research Participants page.
International Society of Paediatric Oncology Conference

Several of the project researchers met in person for the first time at the 50th Congress of the International Society of Paediatric Oncology (SIOP) in mid-November. This large, global conference, which was held this year in Kyoto, Japan, brings researchers together to help improve the prospects of childhood cancer patients. Dr. Akira Nakagawara, the Smash Childhood Cancer project's principal investigator, served as the chair of the conference's local organizing committee.
World Community Grid and the Smash Childhood Cancer Project were represented at the conference by Ai Ogawa, IBM Citizenship Manager for Japan. During the conference, she attended a meeting with Drs. Nakagawara, Chan, Lau, and Hoshino, where the researchers discussed how to refine their methods of finding effective drugs for specific targets in cancer cells.
The team plans to meet again soon—this time in Hong Kong—for more in-depth discussions of their roles in the project.
We appreciate everyone's support for Smash Childhood Cancer!
---
Related Articles