The Smash Childhood Cancer researchers are pleased to announce that Dr. Godfrey Chan, a founding member of the team, will be the new Principal Investigator for the project. The project is re-starting with two new targets to investigate in the continuing search for better childhood cancer treatments.
---
---
Thank You to Dr. Akira Nakagawara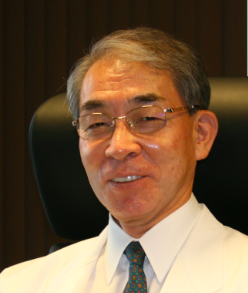 The Smash Childhood Cancer team and World Community Grid thank Dr. Akira Nakagawara for his many years of leadership and service as Principal Investigator of the Help Fight Childhood Cancer and Smash Childhood Cancer research teams. He is stepping down as Principal Investigator to spend more time with his family, but will remain part of the research team and will be involved in future work.
Under Dr. Nakagawara's leadership, the Help Fight Childhood Cancer project discovered seven drug candidates that show great promise as new treatments for neuroblastoma, one of the most common and dangerous forms of childhood cancer. To help build on these discoveries, he expanded the original project into the international collaboration of the Smash Childhood Cancer project, which is searching for potential treatments for brain tumors, Wilms' tumors (malignancies in the kidneys), hepatoblastoma (liver cancer), germ cell tumors, and osteosarcoma (bone cancer).
Welcome to Dr. Godfrey Chan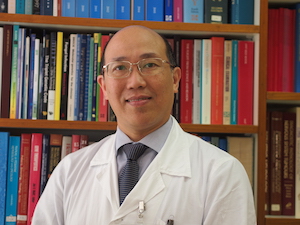 Dr. Godfrey Chan, one of the original members of the Smash Childhood Cancer team, will be the project's new Principal Investigator. As a pediatric oncologist and researcher focused on translational medical research and clinical trials, his specialty is the screening and development of new drugs targeting known or newly defined molecules.
He is Head & Chief of Service of the Department of Pediatrics & Adolescent Medicine at The University of Hong Kong. He is also the Director of Molecular Laboratory for Traditional Chinese Medicine (New Drug Screening for Immunology & Cancer), and was the Deputy Director of the Stem Cells & Regenerative Medicine Consortium (Clinical Application of Mesenchymal Stem Cells) at The University of Hong Kong.
Dr. Chan serves as the Continental Chairman (Africa, Asia and Australia) of Advance Neuroblastoma Research and Executive Committee Member of SIOPEN (European Neuroblastoma) group. He has earned several international awards (ANR, SIOP, ASPR, Endeavor Executive Award-Australian Government, Outstanding Pediatrician of APPA) for his clinical and laboratory research works on childhood neurogenic tumors and stem cells biology.
Thank you to both outstanding researchers for their ongoing work in the fight against childhood cancer.
New Targets
The newest Smash Childhood Cancer work units will look at two potentially important targets, PRDM14 and Fox01.
PRDM14 is involved in intracranial germ cell tumors (IGCTs) that primarily affect adolescents and young adults. These are very rare brain tumors that have a much higher incidence in Japan and East Asia. In addition to IGCTs, PRDM14 also affects non-small cell lung cancer, breast cancer, leukemia (both pre-B cell and T-cell) as well as prostate cancer.
Fox01 is believed to play a role in the development of a number of cancers in addition to childhood cancers, including prostate, endometrial, pancreatic, and others.
After World Community Grid's work on these two targets is finished, we anticipate having a few more for volunteers to crunch. Thank you to everyone for supporting the Smash Childhood Cancer project.