The THOR Challenge is back for a fifth year. Learn how you and your team can participate at a time when humanitarian scientific research is more crucial than ever.
---
---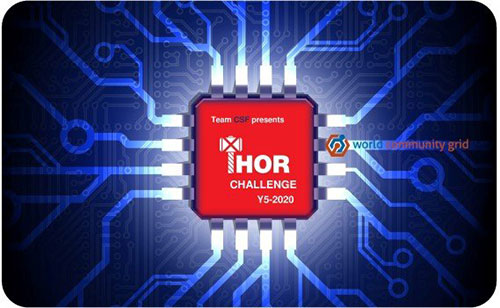 This has been a year of unprecedented challenges for much of the planet. So with the ongoing global challenges that we are all facing together, the CRUNCHERS SANS FRONTIERES team has issued THOR Challenge 2020, which marks the fifth year of this event.
Below are the basic rules of THOR Challenge 2020:
Begins on September 7 and runs for five weeks
For the first four weeks, THOR Challenge teams are ranked by the their Total Run Time (TRT)
For the fifth week, THOR Challenge Pure teams are ranked by their World Community Grid points
All active World Community Grid projects are included in this year's Challenge
You can learn more about how the THOR Challenge is structured in this forum post by Thomas H.V. Dupont, Captain of the CRUNCHERS SANS FRONTIERES team.
As of September 1, this year's Challenge has attracted 58 teams. And like last year, this year's Challenge is actually two competitions in one, so there will be two winning teams with the THOR Challenge Pure.
If you are a team captain, register your team today. And if you're a team member, let your captain know that you'd like the team to be part of a challenge that supports research on COVID-19, cancer, and the human microbiome.

Thanks for supporting the THOR Challenge and World Community Grid!