Ian Lawson Van Toch, an intern at the Jurisica Lab, tragically passed away in 2007 during his first year of graduate school. His memory is honored by Ian's Fund, which helps young scientists launch their careers in cancer informatics.
---
---
As an undergraduate studying biomedical computing at Queen's University in Ontario, Canada, Ian Lawson Van Toch was proactive about finding opportunities in his area of study, including an undergraduate internship at the Jurisica Lab to participate in work on cancer informatics. Ian worked on tools being developed to help scientists and medical personnel better predict, find, and treat various types of cancer.
Upon graduation, Ian was accepted into the Department of Medical Biophysics graduate program at the University of Toronto. He also continued working at the Jurisica Lab as a graduate student, where he was on a team developing NAVIGaTOR, a 2-D and 3-D graph visualization and analysis tool that for example enables researchers to visualize millions of protein interactions at once and thereby begin to determine which interactions cause healthy cells to mutate into cancer cells. But sadly, Ian's life and work were cut short when he died of heart disease during his first year of graduate school.
To honor Ian's memory, his parents and the Jurisica Lab created Ian's Fund at the Princess Margaret Cancer Centre in Toronto. The Fund provides support for internships, awards for excellence in cancer informatics research, and a lecture series featuring some of the world's foremost scientists in computational biology. For more than 10 years, IBM helped support this work by co-sponsoring the Outstanding Student Paper Award at the annual International Conference for Computational Biology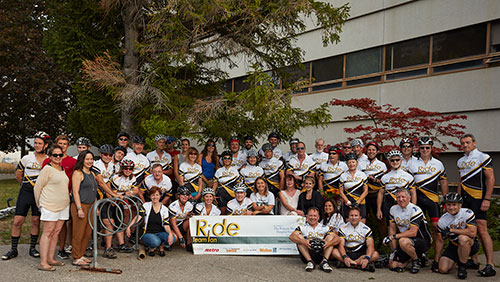 Ian's Ride began in 2009 to help raise money for the Fund, with Jurisica Lab members participating as both riders and support staff. For the first two years, riders on the the team participated in the Enbridge Ride to Conquer Cancer. Subsequently, in order to ensure that all of the money raised would be directed toward the goals of Ian's Fund, the team started its own ride, which covered 270 km from the Computer Science Building at Queen's University in Kingston, Ontario (Ian's alma mater) to Montreal.
Ride participants have ranged in age from 19 to 82 years old, and included a number of IBMers in Canada. In addition to the ride itself, participants supported research by providing saliva samples to researchers. These samples were analyzed as part of a study to determine molecular mechanisms how physical activity may affect cancer, both for prevention and treatment. Currently, the researchers are awaiting RNA sequencing data from the collected samples to continue with the next steps in the study.
Due to the ongoing COVID-19 pandemic, this year's Ian's Ride was scaled down to a handful of riders. But in addition to the ride, Ian's passion for cancer informatics lives on the work of students who are helped by the Fund. The work of these students, in turn, helped with the analysis of data on the Mapping Cancer Markers project, which is currently running on World Community Grid.
Learn more about Ian's Ride and Ian's Fund here.