We completed a successful beta test for new sarcoma work units in October.
---
---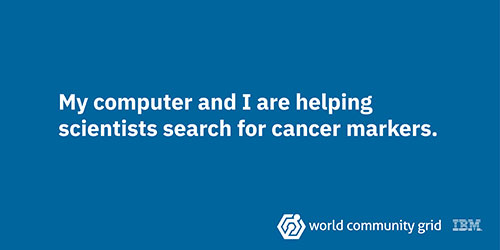 Background
Mapping Cancer Markers aims to identify the markers associated with various types of cancer. The project is analyzing millions of data points collected from thousands of healthy and cancerous patient tissue samples. These include tissues with lung cancer, ovarian cancer, and sarcoma.
By comparing these different data points, researchers hope to identify patterns of markers for different cancers and correlate them with different outcomes, including responsiveness to various treatment options.
Information about new sarcoma work units
Mapping Cancer Markers began running sarcoma work units on World Community Grid earlier this year. The research team now has data that includes seven subtypes of sarcoma. They've created a new type of work unit with code that allows them to identify differences between these subtypes.
Results from the past and current sarcoma work units will still be valid.
Beta testing on new sarcoma work units
World Community Grid volunteers and the tech team recently completed a beta test on the new work units described above. These beta work units have all now been returned to the research team and they're analyzing the results.
Current status of work units
Available for download: 710 batches
In progress: 1,047 batches (9,212,542 work units)
Completed: 66,671 batches
934 batches in the last 30 days
Average of 31 batches per day
Estimated backlog: 22 days
Click here to learn more about World Community Grid's monthly project updates.