The project is coming closer to beginning lab testing on promising compounds, but there is still much work to do on World Community Grid.
---
---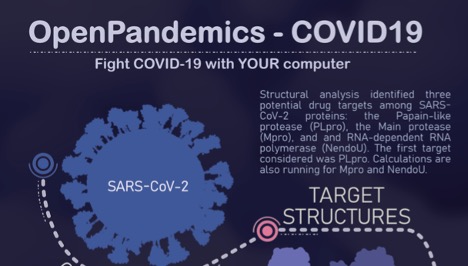 Research team member Dr. Martina Maritan created an infographic (detail above) about the project to help outline the full research process. You can click here to see the full details.
Background
OpenPandemics - COVID-19 was created to help accelerate the search for potential COVID-19 treatments. The project also aims to build a fast-response, open source toolkit that will help all scientists quickly search for treatments in the event of future pandemics.
First set of compounds ordered for lab testing
As the researchers mentioned in their project update at the end of October, they've identified 70 compounds for experimental testing. So far, they've been able to order a subset of these compounds, which have been shipped to lab collaborators. We'll let everyone know once the lab testing process begins.
OpenPandemics for GPU
Porting code to GPU is a lengthy process because there are a number of necessary steps to ensure that work units function well and securely before they're sent to volunteers.
The code just went through an IBM security review. The reviewers recommended a few minor changes, which are being evaluated by World Community Grid's tech team.
Current status of work units
Available for download: 11,090 batches
In progress: 4,364 batches (18,750,423 work units)
Completed: 23,674 batches
6,994 batches in the last 30 days
Average of 233 batches per day
Estimated backlog: 47 days
Click here to learn more about World Community Grid's monthly project updates.