The scientists are continuing to work on papers related to the research being done on World Community Grid.
---
---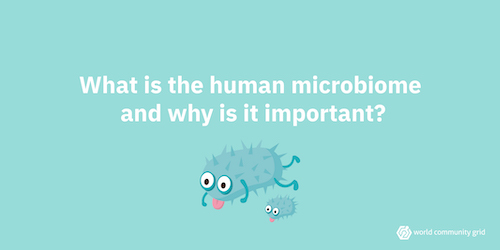 Background
Trillions of bacteria live inside and on our bodies. The Microbiome Immunity Project is using the computational power of World Community Grid to study the proteins produced by these bacteria, which are encoded in their genomes. This can help scientists understand the role of the microbiome in disease.
So far, the researchers have run more than 300,000 protein sequences through their pipeline, and they have more sequences to run in the future.
Papers in progress
This month's discussion primarily centered on three papers that are at various stages in the creation process.
Paper 1: The researchers are analyzing multiple datasets for this paper (at least three).
Paper 2: The researchers are waiting for results from 11 datasets from World Community Grid to continue the data analysis process for this paper.
Paper 3: This paper has been submitted for review to an academic journal. (Since the pandemic began, the review process is taking quite a bit longer than normal.)
Current status of work units
Available for download: 6,595 batches
In progress: 3,395 batches (6,111,703 work units)
Completed: 326,288 batches (1,247 batches in the past 30 days,
an average of 41.6 batches per day)
Estimated backlog: 158.5 days
Click here to learn more about World Community Grid's monthly project updates.