The researchers recently welcomed a new team member who will be designing machine-learning approaches.
---
---
Background
In October 2020, the World Health Organization released the most recent global statistics on TB, including the following:
In 2019, an estimated 10 million people contracted TB.
1.4 million people died from TB in 2019.
TB remains one of the top 10 causes of death worldwide, and the leading cause from a single infectious agent (above HIV/AIDS).
The Help Stop TB project was created to study the sheath of Mycobacterium tuberculosis, the bacterium that causes TB. Knowing more about this sheath could help scientists better understand how the bacterium protects itself, which could in turn assist in the ongoing search for better treatments.
Welcome, Connor!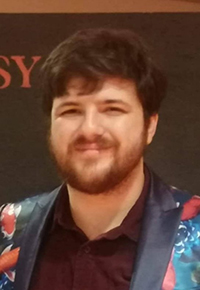 We're excited to welcome Connor McGee as the newest member of the Help Stop TB research team.
Connor is a PhD student on the BBSRC Doctoral Training Programme at the University of Nottingham. As part of the programme, he completed two separate 8-week research placements before choosing a final project. In his previous degree, Connor specialised in the field of Computational Neuroscience, combining various tools from maths and neuroscience to help solve the puzzle of glial cells in the brain.
Whilst selecting his project rotations, Connor was offered the opportunity to step away from his immediate expertise and into the world of Computational Chemistry as part of the Help Stop TB project. He was a bit nervous at the start, but quickly found a passion for studying the way molecules fold and assemble into more complex structures. When the time came to make a final project selection, Connor was ready to jump into the Croft group's work on molecular structure and solve some exciting new chemical puzzles.
Building on his prior experience with statistics and methodology development, Connor will be designing machine-learning approaches that can be used to help study the data generated throughout the Help Stop TB project. By integrating machine learning with innovative multidisciplinary toolkits, Connor hopes to help understand the factors governing mycolic acid folding whilst ensuring explainability, interpretability, and transparency.
Thank you to everyone who is supporting this project!