As we announced last month, the Microbiome Immunity Project's time on World Community Grid is ending, but their data analysis is in full swing. This will be the final monthly update for this project.
---
---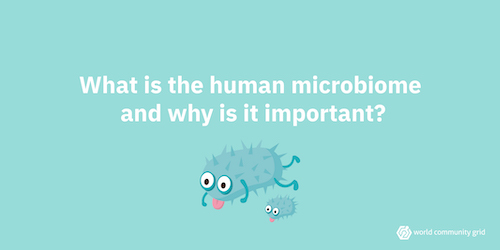 Background
Trillions of bacteria live inside and on our bodies. The Microbiome Immunity Project uses the computational power of World Community Grid to study the proteins produced by these bacteria, which are encoded in their genomes. This can help scientists understand the role of the microbiome in disease.
Papers in progress
The researchers are planning two papers that will use data from World Community Grid. (Their first paper, which referenced techniques they developed as a result of the project, was published in late May.) This month, they are concentrating on further analysis and writing for one of the papers, which they believe will have broad appeal to other scientists working on the microbiome and in related fields.
Future plans
As we announced in last month's update, the project's time on World Community Grid will be ending as soon as the current work units are completed. You can read a post made by one of the researchers in the Microbiome Immunity Project forum with more information.
This will be the final monthly update for the project, but we are keeping in touch with the research team over the coming months as their data analysis progresses. To start, the researchers are preparing a project update, which we plan to release as soon as it is complete. We will also make announcements as their papers are published or if they have other news.
Status of work units
We expect the current supply of work units to be sent to volunteers by July 17, give or take a couple of days. After that, there will be approximately two weeks of work in progress (including possible re-sends). We anticipate that all work units will be completely processed by late July.
Click here to learn more about World Community Grid's monthly project updates.