Charles Keller MD | Scientific Director of Children's Cancer Therapy Development Institute, gives us some detailed background on rhabdomyosarcoma
---
---
Childhood cancers are very treatable and generally curable 82% of the time. However, for 1 in 5 children a lifesaving treatment is not yet known. The childhood muscle cancer, rhabdomyosarcoma, is a prime example of where the WCG Smash Childhood Cancer Project aims to make an impact.
In terms of the state of clinical care and science so far for rhabdomyosarcoma:
Conventional therapy with chemotherapy, radiation and surgery is so fully maximized and intense as to have a marginally-acceptable treatment-related mortality rate of 3%.

No new agents have emerged to be tested in clinical trials for high-risk or relapsed rhabdomyosarcoma in the last 7 years.

The disease-free survival for metastatic embryonal and alveolar rhabdomyosarcoma (43% and 8%, respectively) have remained unchanged for 49 years.

No primary drug approvals for rhabdomyosarcoma have occurred in history ever, and only 12 drugs developed for childhood cancer have been FDA approved since 1978. By comparison, on average 12 or more adult cancer drugs are FDA approved annually.
Fortunately, chemotherapy response for alveolar rhabdomyosarcoma seems to be linked to a specific mutant gene product called PAX3-FOXO1, which we plan to destroy with a new kind of drug. For our project, we will create a PROTAC (protein degrader) for PAX3-FOXO1. PROTACs are tools that reduce a target protein in minutes. PROTACs are also emerging as drugs in clinical trials (NCT04072952, NCT03888612). To make a PROTAC for PAX3:FOXO1, we are collaborating with Dr. Tyuji Hoshino (Chiba University, Japan) and the World Community Grid to identify a chemical probe that binds the unique protein fusion region between PAX3 and FOXO1. This critical feature of a new PROTAC drug will be tested on cell lines, and in living tissue from patients via "avatar mice". If effective, the newly developed treatment could eventually be tested in internal clinical trials through networks of hospitals called "cooperative groups".
Work for the lab side of this project is made possible by a crowdfunding project by young Megan Bugg (https://cc-tdi.kindful.com/?campaign=1169029) and a collaboration with the MyCleats-MyCause NFL program with Kansas City Chiefs rookie defensive end, Josh Kaindoh. An auction of Josh's cleats designed by the shoe designer-father of a childhood cancer survivor will support this project. Heads up, sneakerheads!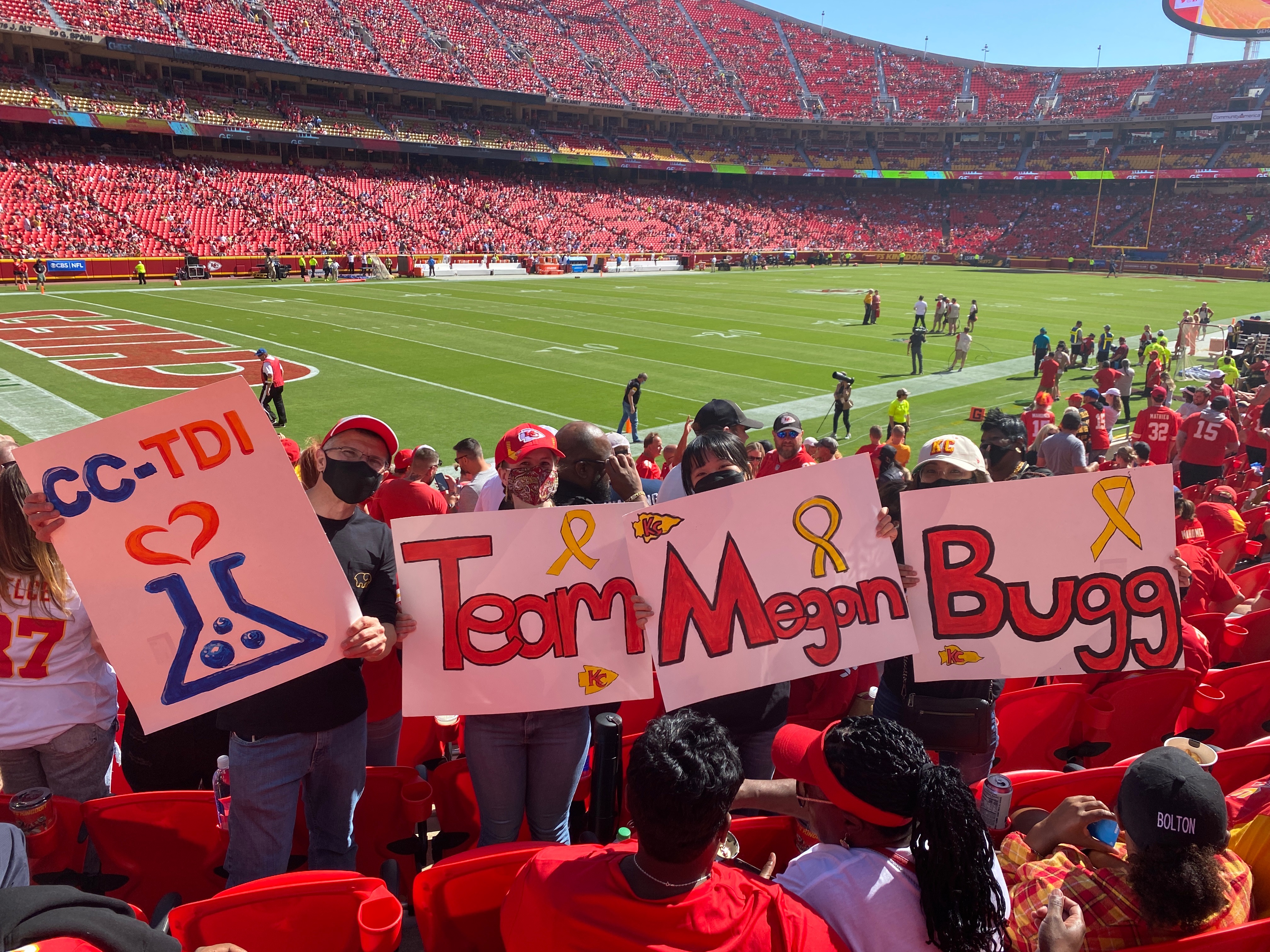 Team Megan Bugg at a Kansas City Chiefs NFL game, from Dr. Charles Keller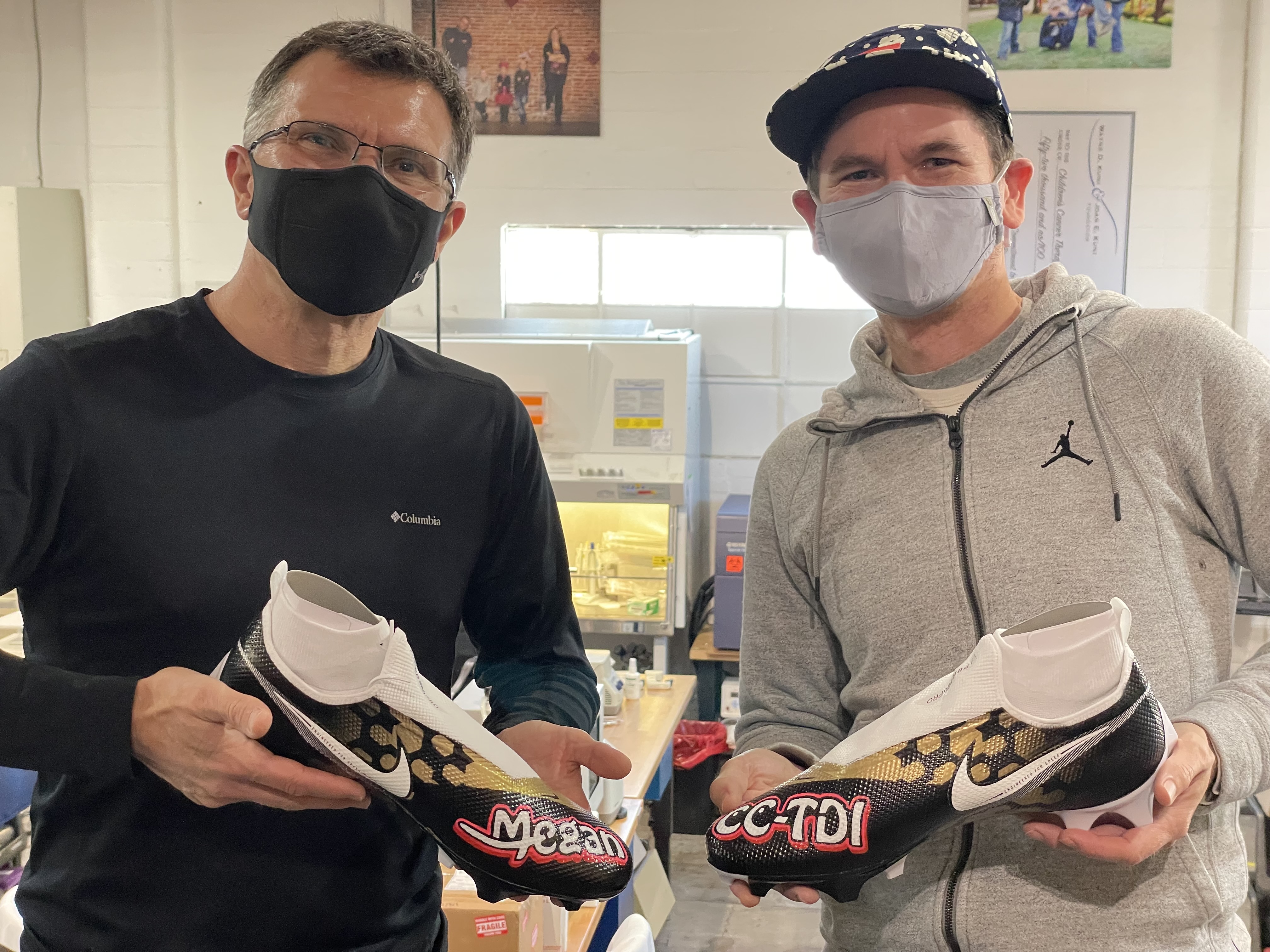 Dr Charles Keller and Sam's Dad with the shoes created for KC Chiefs athlete, Josh Kaindoh, from Dr. Charles Keller