What are the most common platforms used by our volunteers? And which volunteers contributed the most?
---
---
How many users use a specific platform or a combination of platforms?
As visible in Figure 1A, Windows has always been the platform of preference, producing the highest number of CPU years. In the last 4 years, though, Linux users have seen a huge increase. Figure 1B shows the number of users per platform, whether unique or combined, and interestingly more than 46 thousand users run WCG on more than one platform.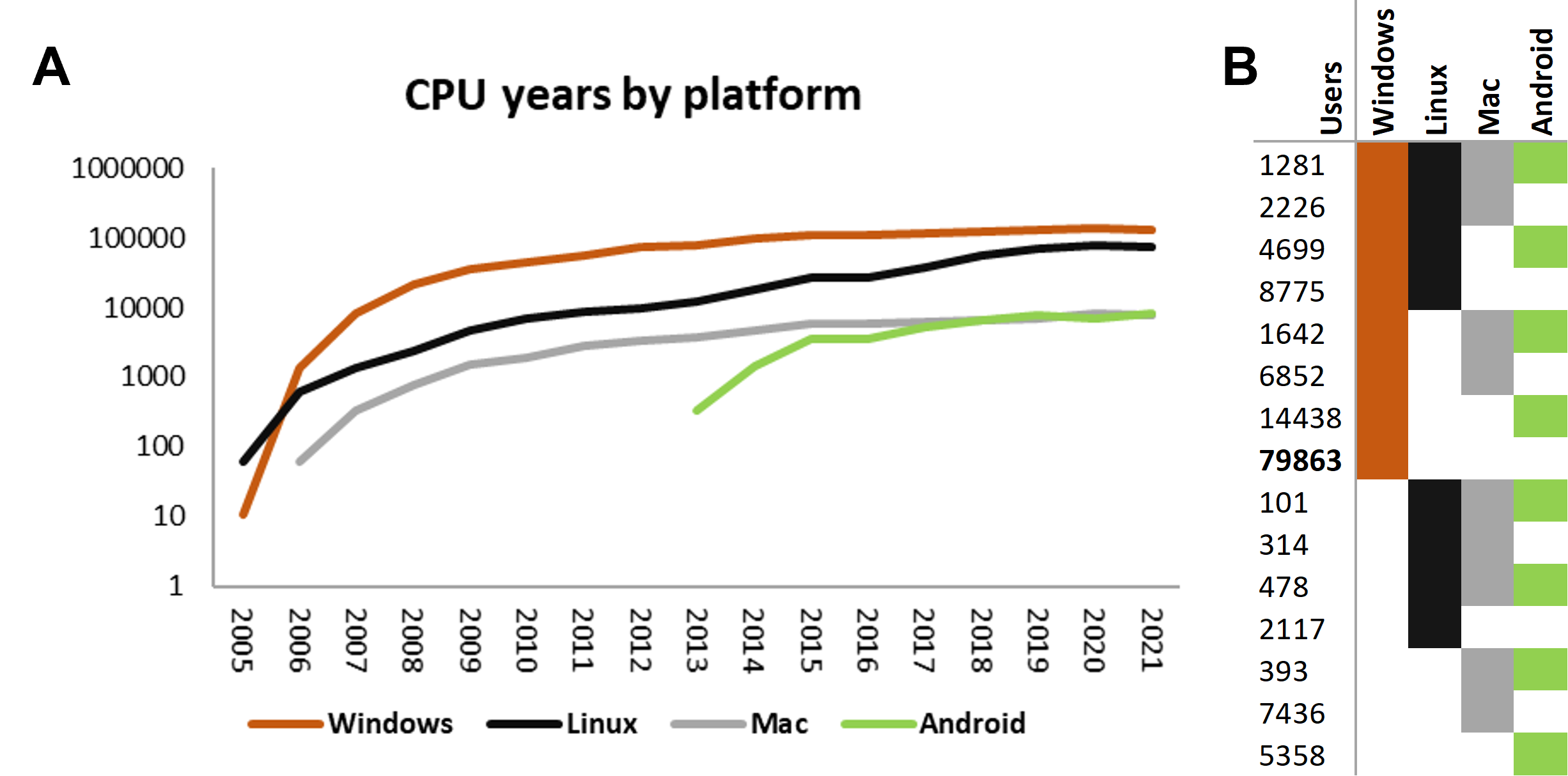 How many CPU-years did WCG volunteers produce?
In total, 2,420,508 years.
The strength of the Grid is a function of the number of volunteers and the power of their devices. Over the years, the users contributing over 20,000 years of run time include IBM (126,300 years), marist_college (48,356 years), hillenbr (24,853 years), UH UIT HPC (24,831 years) and AntHill (24,049 years). The teams contributing more than 50,000 years of run time include IBM (145,088 years), Team 2ch (84,025 years), Ripple Labs (64,287 years) and Easynews (51,917 years). Ripple Labs also includes the highest number of members (28,122). The average run time per result is 3 hours and 13 minutes.
The archive of all work processed by World Community Grid volunteers constitutes an estimated 823 terabytes of data (compressed), filling 218 hard disks.
How many points and results did WCG volunteers generate?
The WCG community of volunteers generated 3,785,537,868,002 points and returned 6,576,879,094 results. IBM and marist_college generated 230,128,513,596 and 103,907,340,949 points respectively, and returned 383,831,444 and 219,022,506 results.
Four teams generated more than 100 billion points, IBM (252,343,590,209), Team 2ch (132,141,064,277), XtremeSystems (105,151,735,279) and Marist College (104,146,756,798). 3 teams returned more than 200 million results: IBM (424,708,181), Team 2ch (239,080,235) and Marist College (219,289,733).

Three users had more than 50,000 average points per hour of run time: Ian-n-Steve C. (140,466.08), Freld (103,331.51) and shoukokomik (55,504.76). Among the teams, two teams had an average points per hour of run time higher than 100,000: Charlie Murphy's Couch (169,553.65) and AlterContacts (142,577.42).

We are grateful for all the support the volunteers provided and look forward to finishing existing projects and expanding into new areas of research soon.