World Community Grid selected as one of IBM's top 100 innovations that helped shape the company


Summary

World Community Grid has been selected as one of the 100 innovations which helped shape IBM, thus highlighting the project as one of its most important contributions to society.


As part of IBM's centennial celebration, 100 innovations that helped shape IBM's first 100 years have been selected as Icons of Progress, or key milestones. These are technologies, projects or inventions that IBM believes made a lasting impact on the world.

World Community Grid was chosen because it demonstrates how computers could be turned into powerful research tools helping address some of the world's most difficult health and societal problems.

IBM is featuring an Icon of Progress every day and World Community Grid will be featured on March 30, 2011.

More information about the IBM centennial and the Icons of Progress may be found at the IBM at 100 website.

To view the icon and associated information, go to the IBM Home Page on March 30, 2011. The icon will appear as follows: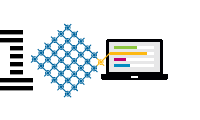 Clicking on this icon on the IBM Home Page will provide more detailed information, and comments of support may be entered.

After March 31, 2011 the World Community Grid may be viewed on the Explore All Icons page.

World Community Grid and People for a Smarter Planet will also have information about World Community Grid becoming an Icon of Progress on their respective Facebook walls. Starting on March 30, 2011, members may enter comments of support for World Community Grid on either of these Facebook sites.

If you enjoy reading blogs, check out the blog on Citizen IBM.

It is a great honor for World Community Grid to be selected as one of the 100 innovations that helped shape IBM, and the world.

We sincerely thank members for their important part in the success of World Community Grid, and the hope for humanitarian relief that World Community Grid represents.