New Collaborations and Continued Progress for the Clean Energy Project

By: The Clean Energy Project team

Harvard University

12 Oct 2016

Summary

In this update, the Harvard research team describes new research tasks, new collaborations that will build upon their search for more efficient solar cells, and a recent award.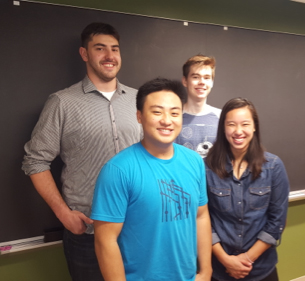 The Harvard Clean Energy project continues to work towards finding new classes of materials for clean, renewable, solar energy. We are now analyzing the results of a virtual high-throughput screening of fullerene alternative materials. These materials will help to expand the toolkit for our collaborators who fabricate these devices. We are working with several groups in Mexico and Canada to begin the synthesis of these compounds.
The data crunching on World Community Grid is currently on hold, while a new type research task is tested before being released to the wider volunteer community.
We have also started to collaborate with the Loo group (Princeton University) for another screening project involving discotic hexabenzocoronene materials. These materials are highly transparent, and our collaborators have measured impressive open-circuit voltages in photovoltaic devices. The high voltage of these materials can be used for a new exciting application, water-splitting! High voltages can be used to break up water into its component elements, oxygen and hydrogen. H2 has the potential to be used a locomotive fuel, and has the added bonus of producing only green byproducts, oxygen, and water.
Dr. Steven Lopez is working with a graduate student Hannah Shin and visiting undergraduate Julio de Goes Soares to design a custom library for our friends in Princeton.
Steven traveled to UCLA to accept the Norma Stoddart Prize for Academic Excellence and Outstanding Citizenship, which is open to all current and recently graduated research students and fellows in the UCLA Department of Chemistry and Biochemistry. He met Sir Fraser Stoddart (Northwestern University), a renowned chemist and recent Nobel Prize winner whose research focuses on molecular recognition through supramolecular chemistry.
Steven and Alán traveled to Vancouver, British Columbia to present his research at the Canadian Institute for Advanced Research (CIFAR) meeting with another Aspuru-Guzik postdoc, Dr. Doran Bennett.
We greatly appreciate World Community Grid volunteers helping us by donating computational power!