This is how a global community unites to find cancer biomarkers.

---
Summary

Sawyer created a World Community Grid team to help accelerate research after his father was diagnosed with brain cancer. In the process, he found a global community of volunteers who are helping scientists at Krembil Research Institute find cancer biomarkers, which could lead to better diagnosis and treatment.
---
Meet Sawyer
Sawyer is really into computers. He built his first computer at the age of eight, and within a couple of years he founded his own company, where he built and sold more than 20 computers. At the age of 11, he began building cryptominers.
Then, his father, Brett, was diagnosed with brain cancer.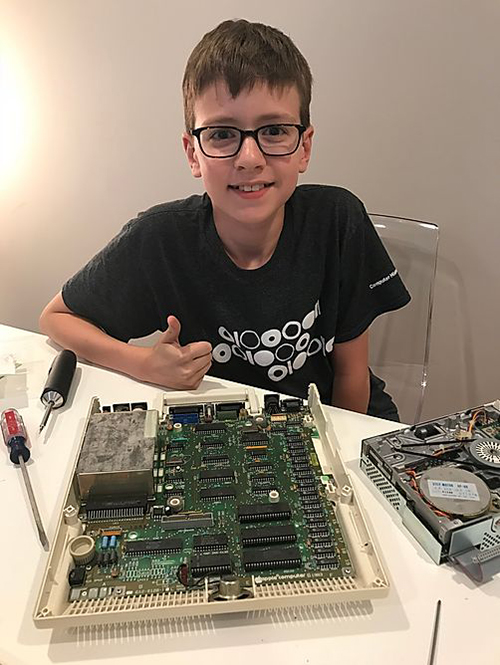 Quick Facts about Cancer and Biomarkers
Cancer is the second leading cause of death globally, accounting for an estimated 9.6 million deaths, or one in six deaths, in 2018. (See the World Health Organization's website for more statistics and facts about cancer.)
Cancer starts due to genetic or environmental changes that interfere with biological mechanisms that control cell growth. These changes can be detected in tissue samples through the presence of their unique chemical indicators, such as DNA, proteins or metabolites, which together are known as "biomarkers." A group of such biomarkers is referred to as a signature.

The pattern of biomarkers can determine whether an individual is susceptible to developing a specific form of cancer, and may also predict the progression of the disease, helping to suggest the best treatment for a given individual. For example, two patients with the same form of cancer may have different outcomes and respond differently to the same treatment due to their unique genetic profile, in combination with potentially different lifestyles.
While several biomarkers are already known to be associated with certain cancers – mostly identifying patients at risk (e.g., BRCA1 or BRCA2 mutations for breast and ovarian cancer), there are many more to be discovered. Computational research can help speed up the discovery process, but researchers need massive amounts of computing power to make this possible.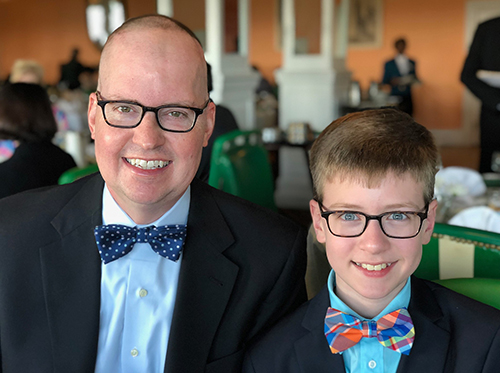 Helping Cancer Patients and Finding a Community

Sawyer was only 11 when his father (pictured above at left) began treatment for brain cancer, but he did some research, found World Community Grid's Mapping Cancer Markers project, and realized he had the power to help. "I had these powerful cryptominers in my basement and realized I could run World Community Grid on them to help people with cancer, like my dad," he says.
Here's how it works: People all over the globe join World Community Grid by downloading a secure software program to their computers or Android devices. And when their devices have any unused processing power, they automatically run data comparisons to identify potential biomarkers in the background for Dr. Igor Jurisica at the Krembil Research Institute in Toronto.
Within a few months, Sawyer had not only donated a significant amount of computing time from his own machines to helping find cancer biomarkers, but he had also created a World Community Grid team called Sawyer's Cancer Fighting Network.
"Sawyer launched the team website by himself–he wouldn't even let me in the room while he worked on it," says Brett. "It was a pretty amazing thing. Cancer can make a person feel very alone, but now instead of being just about me, it was about everyone who has cancer."
At first, Sawyer planned to invite just friends and family to his team. The team's initial goal was to donate 100 years of computing time to the Mapping Cancer Markers project. But then other World Community Grid volunteers got involved. Through World Community Grid's online forum, Sawyer met two volunteers ("OldChap" from the United Kingdom, and "little mermaid" from Denmark) who helped publicize Sawyer's Cancer Fighting Network and rallied their own contacts to join. In just a few months, Sawyer's Cancer Fighting Network met their initial goal and set their sights higher; they now aim to donate 1,000 years of computing power to Mapping Cancer Markers by September 2020.
"I originally started the team to help support cancer research, but along the way I found a community." Sawyer says.
Brett, his wife Susan, and Sawyer have kept in touch with their new online friends as Sawyer's Cancer Fighting Network continues to grow. Their relationship has been especially important now that OldChap has begun his own cancer treatment. "Our deepest well wishes to go out to OldChap in his battle with cancer," says Susan. "Being in touch with these two World Community Grid volunteers, and seeing the support for Sawyer's team, has done wonders for the morale in our house."
"We are grateful to all World Community Grid and Mapping Cancer Markers volunteers," says Dr. Igor Jurisica, the principal investigator for Mapping Cancer Markers. "Without their help, our research would be impossible. It is humbling to connect with them and learn about their lives and reasons for supporting research in this way.
"While we are excited about our and our colleagues' progress, translating research into more successful treatments and prevention will take some time. It is exciting to know that we are working on this as a global team, as only together we can solve these complex challenges."
(Click here for a larger version of the picture below.)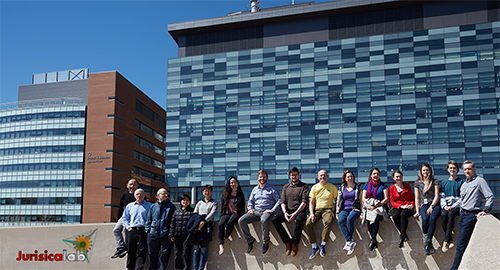 (Click here for the names of the Jurisica Lab members.)
Sawyer is now 14 years old. In addition to his mastery of computers, he loves math. He participates in basketball and tennis, runs cross-country, and plays piano, guitar and saxophone. He's also looking forward to soon playing the part of Malvolio in a production of Twelfth Night at the Folger Theatre in Washington DC.
In the two years since Brett's first brain surgery, he has had a second surgery as well as radiation and chemotherapy. His treatment is ongoing, but he says, "My doctor says my condition is 'stable and boring,' which is a great place to be."
As of this writing, Sawyer's team is more than 40 percent of the way to its goal of 1,000 years of donated computing time. "World Community Grid really has given me a sense of community," says Sawyer. "I feel like people really care about me."
Anyone with a computer or Android device and an internet connection can join Sawyer's Cancer Fighting Network and donate computing power to the search for cancer biomarkers.