| | |
| --- | --- |
| Technical Tips - Tell A Friend, Throttle | |

Making it easier to tell everyone you know about World Community Grid
You've already told everyone you know about World Community Grid, but now is the time to remind them again how easy it is to donate to research that is working on ways to treat cancer and AIDS! Not only is it easy for them to help the cause, but it's also now easier for you to tell them about it! All you have to do is go to the new Tell A Friend page, and fill in your friends' names and e-mail addresses. World Community Grid will send them an official e-mail, to which you can add your own personal message.
You can send the e-mail to as many friends as you want - a link to add more friends will appear after you've filled in the first five people you want to tell about World Community Grid. Then, just preview your message, and send it off!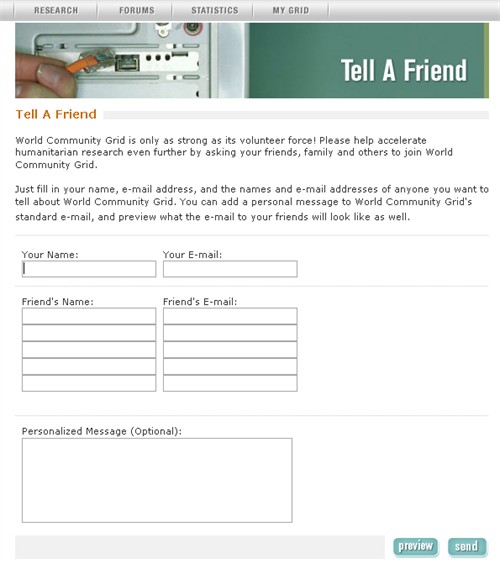 Enhance your preferences with the Throttle Tool
When running World Community Grid's agent for Windows, you will now see that 100% of the CPU is not used by default. World Community Grid has introduced a default setting of 60%. We've found that some recently designed computers deal with slight increases in CPU temperature (such as those caused by running at higher utilization) by slowing the CPU rather than speeding up the cooling fan as needed. This could cause a computer to run slower than usual. To keep this from happening, World Community Grid decided to reduce the grid agent's default CPU throttle setting so that the CPU does not heat up significantly. If you wish to change the CPU utilization setting, we provide a downloadable tool to do this. (This throttle feature is not yet available for the BOINC based agents.)
World Community Grid has grown enough to support this change while not dramatically affecting the processing power of the grid. The agent will now be even less obtrusive to our members' machines. If your machine is able to run at 100% CPU utilization, we certainly welcome the additional contribution to our projects!