World Community Grid is happy to announce that you are now able to see your team's statistics by project! The statistics are also available in XML format so team statisticians can create all kinds of new graphs and charts! Read more about the XML interface in this FAQ.

To view your team stats on the World Community Grid web site, just go to your My Team page and look for the Statistics By Project table. It should look something like this: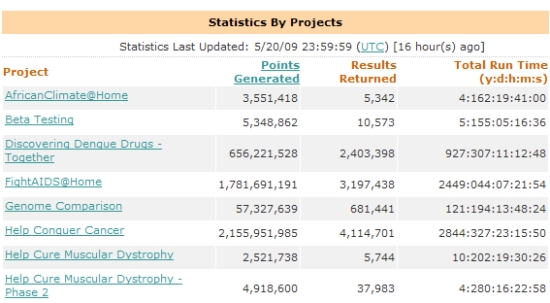 In addition to monitoring your team's statistics by project, your team's captain is now able to challenge other teams to compete for contributions to a specific project! See if you can recruit new members to your team to contribute to your favorite cause! Click here to view all upcoming Team Challenges, and here to tell your friends about World Community Grid, so they can help your team win those challenges!
The Tell A Friend email has been updated so that there are now three versions of the email. Each type has its own emphasis to help you recruit more people to join World Community Grid. You can view this at: http://www.worldcommunitygrid.org/viewTellAFriend.do

Members will now be able to view the error logs for results returned by other users. This will help members investigate possible problems with a workunit. You can view this by going to My Grid -> Result Status and then click on a workunit name. Each result name can be clicked on to display the error log for that result (if the result has already been returned). No personal information is made visible by this change.

If we cannot deliver emails to you due to an invalid email address, there will be a warning on your My Grid -> My Profile page.

Badges will now be shown in the order of the release date of the project.

In the News & Media section, there is a new video to watch about the Nutritious Rice for the World project featuring Dr. Ram Samudrala and Michal Guerquin.

There is now a link to the System Requirements FAQ on the research project pages (in the right sidebar) so that people looking at projects can more easily determine if they can run a project in which they have an interest. We have also added a FAQ containing the download sizes for the various components of each of the active research projects.

The migration to our new hosting facility was successfully completed in January, and we are now able to process the results returned by members and the statistics accumulated by members much more quickly and efficiently.