The researchers continue to process work on World Community Grid while working on a paper about lung cancer markers.
---
---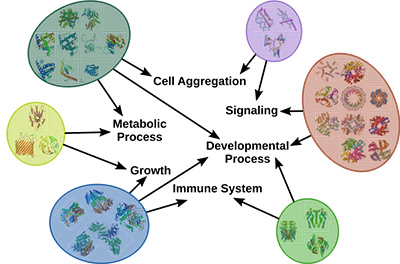 The illustration above (from a past project update) depicts proteins grouped by similar interactions and similar biological functions.
The highly interconnected human protein-protein interaction network enables the researchers to see how individual proteins perform diverse molecular functions, and together contribute to a specific biological process. Many of these interactions change between healthy and disease states, which in turn affects the functions these proteins carry.
By analyzing data, the Mapping Cancer Markers researchers aim to build models of these processes that in turn could be used to design new therapeutic approaches.
Background
Mapping Cancer Markers aims to identify the markers associated with various types of cancer. The project is analyzing millions of data points collected from thousands of healthy and cancerous patient tissue samples. These include tissues with lung cancer, ovarian cancer, and sarcoma.
So far, the project has finished running data for lung cancer and ovarian cancer markers on World Community Grid. The researchers are now studying markers for sarcoma, which is a group of cancers that start in bone, muscle, or other tissue. You can read more about the research team's findings to-date here.
Paper on lung cancer markers
A draft of the paper is being finalized. The research team is waiting for additional data from a collaborator in order to move forward.
Current status of work units
Available for download: 606 batches
In progress: 1,109 batches (10,492,542 work units)
Completed: 70,937 batches
1,220 batches in the last 30 days
Average of 40.66 batches per day
Estimated backlog: 14.9 days
Click here to learn more about World Community Grid's monthly project updates.