In this update, principal investigator Dr. Anna Croft shares two recent milestones for the Help Stop TB research team, and discusses their continuing search for additional researchers.
---
---
The Help Stop TB (HSTB) project uses the massive computing power of World Community Grid to examine part of the coating of Mycobacterium tuberculosis, the bacterium that causes tuberculosis. We hope that by learning more about the mycolic acids that are part of this coating, we can contribute to the search for better treatments for tuberculosis, which is one of the world's deadliest diseases.
Graduation Ceremony for Dr. Athina Meletiou
In recent news for the HSTB project, Dr. Athina Meletiou has now officially graduated. It was a lovely day, finished off with some Pimms and Lemonade in the British tradition.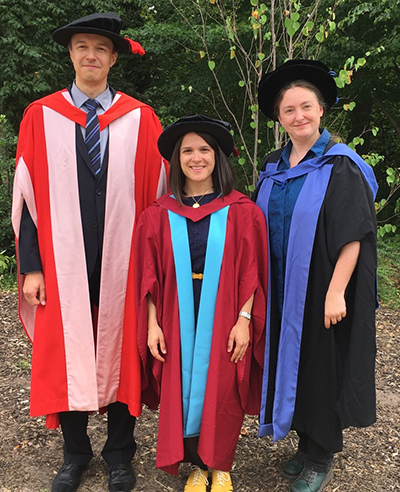 Athina (center) with supervisors Christof (left) and Anna (right)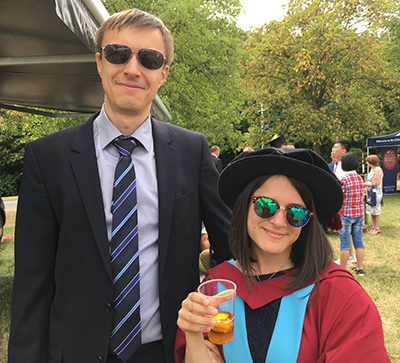 Athina and her scientific "body-guard," Christof

Search for New Team Members Continues
We are still looking for suitably qualified chemists, biochemists, mathematicians, engineers and computer scientists to join our team, especially to develop the new analytical approaches (including machine-learning approaches) to understand the substantial data generated by the World Community Grid volunteers.
We will be talking to students from our BBSRC-funded doctoral training scheme in the next few days and encouraging them to join the project. Click here for more details.
Paper Published
Dr. Wilma Groenwald, one of the founding researchers for the HSTB project, recently published a paper describing some of the precursor work to the project. The paper, which discusses the folding behavior of mycolic acids, is now freely available on ChemRXiv.
We hope to have Athina's first papers with World Community Grid data available later in the year, and will keep you updated.
Thank you to all volunteers for your support.
---
Related Articles